Design hotel Paris : contemporary elegance
Published on 27 June 2017, dans Hotel
Design hotel Paris
for your comfort, our number one priority and we, at
Hotel Marais Bastille
, want to make sure your stay, at our establishment, is as relaxing as possible. So we, are very proud to announce the news of the renovation of our single, twin and double rooms, on the 6th floor. The newly refurbished rooms are elegant, tasteful and stylish.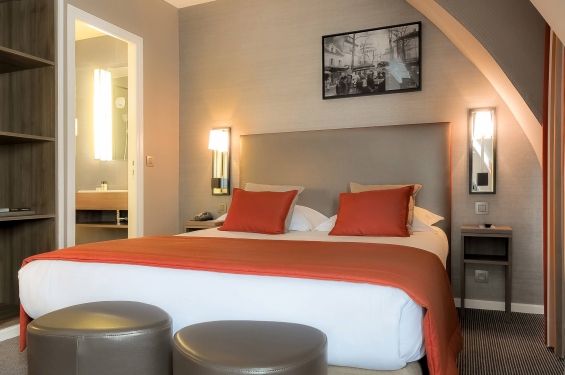 Design hotel Paris : simply outstanding, near Bastille
The colours used to adorn our rooms are soft and delicate, to evoke a calm and peaceful atmosphere. Burnt oranges and wine accents add warmth and sophistication to the rooms, while carefully selected artwork, presenting black and white and colour photographic images of Paris, pay homage to the romantic city that is home to the Hotel Marais Bastille. The choice of lighting is ambient, truly complementing the shape and design of the space.
All of our rooms are furnished with relaxing sofas and our bathrooms are contemporary, bright and fresh, cleanly tiled with chrome details. We give you complimentary slippers and a bathrobe, as a welcome gift, with a bottle of water and bathroom products, including shower and hair gels, body lotion, bath salts and fragrant bath oils. Our rooms have Wifi, allowing you to keep on top of your emails and internet activities. Modern amenities include flat screen televisions and we provide mini-bars with a good selection of refreshments, in all of our rooms.
Hotel Marais Bastille exquisite design hotel in Paris
We are situated in the centre of one of Paris' most prestigious Historic districts, in close proximity to the Bastille Opera House, at 36 Boulevard Richard Lenoir 75001. Our hotel is tasteful and modern in design. It provides a much welcomed, soothing haven away from the buzz and excitement of the Parisian streets. Our hotel is situated close to metro lines 1, 5 and 8 and the RER A at Gare de Lyon station.
---
Hotel Marais Bastille, a 3 star Design hotel in the heart of Paris.