The News of the Hotel Marais Bastille
Published on 27 June 2017, dans Hotel
The
news of the Hotel Marais Bastille
and all upcoming events for the summer, are accessible in our monthly newsletter. We keep you updated on all of the exciting events occurring in Paris throughout the year, so that you won't miss a thing, while enjoying your vacation, in our lovely city. If you have an iPhone, you can download our new app for free. This way you'll always be able to stay abreast of our updates, no matter where you are. Our iPhone app will allow you to discover ever new and interesting parts of Paris, with practical and smart guides that you can rely on.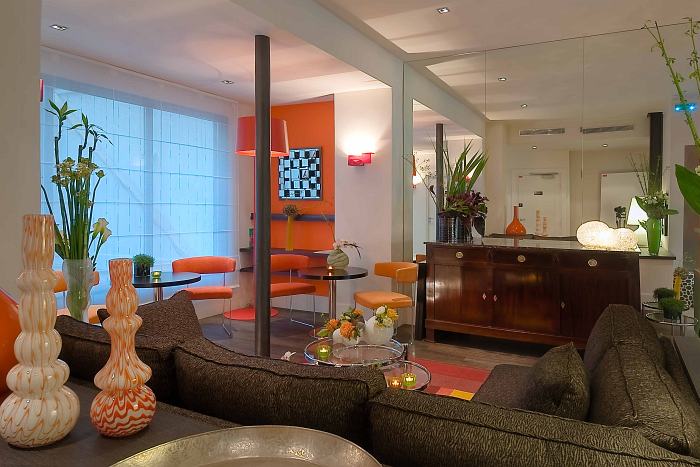 The Hotel Marais Bastille is the perfect choice for those wishing to stay in the centre of the city. You'll have easy access to all of the top tourist spots, while enjoying comfort and tranquillity that comes from staying with us, at Hotel Marais Bastille. Our rooms are elegant and spacious, light and airy. Perfect after a day spent sightseeing. We're located in close proximity to the Prison of Bastille, a historic site, best known for its role in The French Revolution of 1789. The Modern Opera House is also nearby and we share the neighbourhood with a variety of fashionable shops, quaint cafes and superb restaurants. You'll find plenty to do in this area and our hotel staff will ensure your stay, with us, at Hotel Marais Bastille, is stress free, relaxing and most pleasant.
Best Hotels Summer Offers in Paris at Hotel Marais Bastille
Best hotels summer offers in Paris are available at the Hotel Marais Bastille. The service is exceptional and rates are highly competitive. Hotel Marais Bastille's central location makes it a favourite for tourists looking to discover the many sights of Paris. Travellers staying 3 days and over, from 1st August till the 31st, will receive our exclusive offer. This consists of a 5% discount and a free delicious continental breakfast. Our rooms are spacious and the décor is stylish and contemporary, evoking an ambiance that reflects, rest, relaxation and comfort.
Outdoor Opera in Paris 2014 Summertime Concerts
Outdoor Opera in Paris 2014 gives you the opportunity to enjoy classical music and theatre, from some of Europe's most prestigious historical sites. Mozart's superb work of art, Don Giovanni, is being hosted at the Chateau de Vincennes from the 26th to the 28th June and the Hotel National de Invalides from the 9th to the 13th September. This opera comes in two parts and was first shown in Prague, in 1787. Tickets for both of these shows are already available, so it's advisable to get hold of yours as soon as possible.
Paris Plages Summer Fun
Paris Plages delivers 4 weeks of fun, from 20th July onwards. During this period, Parisians get to experience Paris beaches, lined up on the banks of the River Seine. Roads along the riverside and cityscapes are transformed into beach like resorts, where ice cream vendors sell tasty treats and free concerts are available for the public. The Beaches in Paris by Daumier exhibition, commencing on 20th June till 28th September, is being hosted at the Maison de Balzac. It features forty original graphic prints from Daumier and paintings from the Museum of the IIe-de-France and Carnavalet.
~oOo~
Hotel Marais Bastille, a 3 star Design hotel in the heart of Paris.